3. Review your subscription
The strengths suggested are based on how many cigarettes you smoke in a day.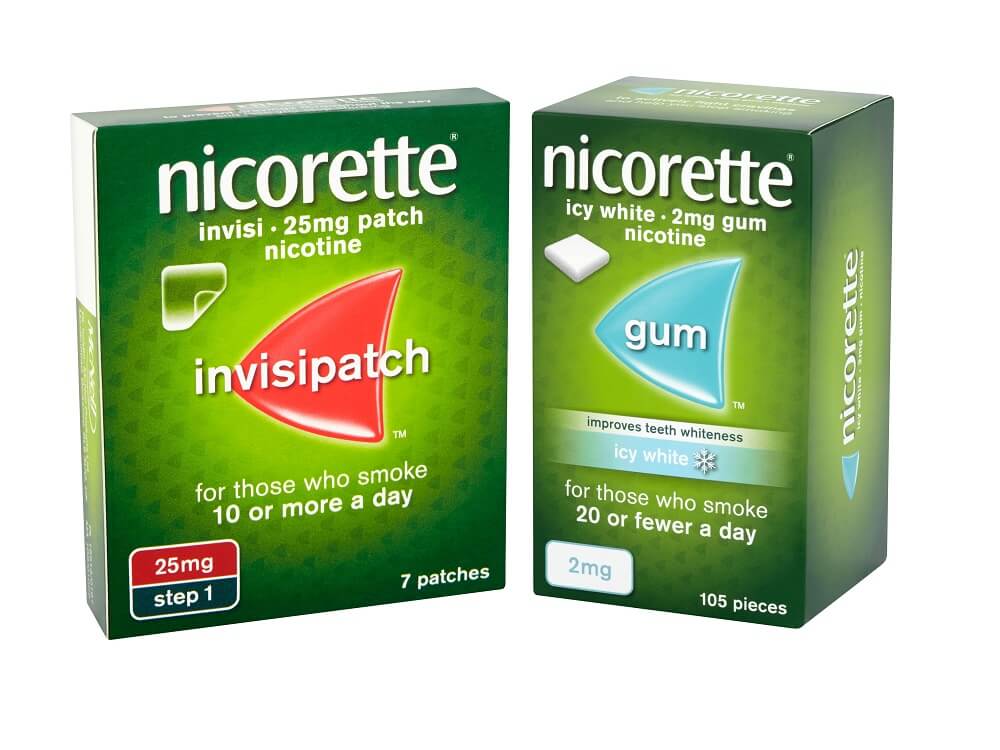 NICORETTE® InvisiPatch + NICORETTE® Icy White Gum
What's included
NICORETTE® InvisiPatch
Nicotine patch

Nicotine released relieves nicotine withdrawal symptoms from cigarettes
Worn on front or side of chest, upper arm or hip
NICORETTE® Icy White Gum

Nicotine gum
Icy White flavour
Nicotine released relieves nicotine withdrawal symptoms from cigarettes
Gum is chewed and then rested between the gum and cheek
Read the label for full instructions.
Subscribe
What to expect during your 3-month product subscription
The aim of the subscription programme is to help you become tobacco and nicotine-free over three months. By the third month you will be sent lower-strength products with reduced levels of nicotine. This step-down approach helps you to feel ready to stop using the products by the end of the programme so you can quit for good.
Subscription FAQs
Our three-month stop smoking subscriptions help make your quit journey more convenient and less of a challenge.
Your chosen NRT products arrive at your door each month, giving you time to change or cancel your subscription if needed.
Hopefully by the end of three months, you'll no longer need your subscription and will start to see savings from not buying cigarettes – as well as all the health benefits from not smoking.
No, there is no additional joining fee. You pay for your product subscription on a monthly basis. Because this is a 3 month subscription, you will be charged 3 times in total including your initial payment at sign up.
You can cancel your subscription at any point by going to your Nicorette account, selecting the 'Your Subscriptions' section, clicking 'Cancel Subscription' and confirming by clicking 'Yes'.
You can make secure payments with all major credit cards.
Each month you will receive your selected products. This will include your 4 week supply of NICORETTE® InvisiPatch and the second flexible format of your choice as well as email support to keep you motivated on your quit journey.
When you cut down or stop smoking, your body misses the nicotine you've been absorbing. You may experience withdrawal symptoms and cravings to smoke.
Rather than eliminating nicotine suddenly when you cut down or stop smoking, NRT supports your nicotine levels to help you adjust gradually.
The nicotine in NRT works by offering relief when cravings strike and from cigarette withdrawal symptoms. This can help to keep you on track to quit.
Without the distraction from cravings and withdrawal symptoms, you can focus your mind on getting through the moments you would normally smoke – such as on a coffee break.
All our subscriptions offer NICORETTE® dual support.

You can maximise your chances of quitting for good by 25%* using the patch for all day support and a flexible NRT product like NICORETTE® QuickMist Mouthspray, NICORETTE® Gum, or NICORETTE® Lozenge (NICORETTE® Fruit Lozenge or NICORETTE® Cools Lozenge) for extra support when those intense cravings strike.
Evidence has shown that you are more likely to quit for good by using two NRT products in combination, compared to using just one alone.
NICORETTE® InvisiPatch provides you with that all-day continuous craving support whilst the additional NICORETTE® product provides additional support to relieve those sudden urges to smoke that may occur throughout the day.
*versus single NRT.
Terms and Conditions
UK residents aged 18+ only. Only available at Nicorette.co.uk. Plan covers 12 consecutive weeks. You cannot change products in your plan nor billing dates. After first order, billing is every 28 days, unless due to fall on 29th, 30th or 31st of a month in which case it is brought forward to the 28th. You can cancel the plan anytime. Savings based on standard price on Nicorette.co.uk, excluding other offers. Cannot be used in conjunction with other offers. Free UK standard delivery. Full terms and conditions available
here
.